Effectively connecting your museum to the Pinterest crowd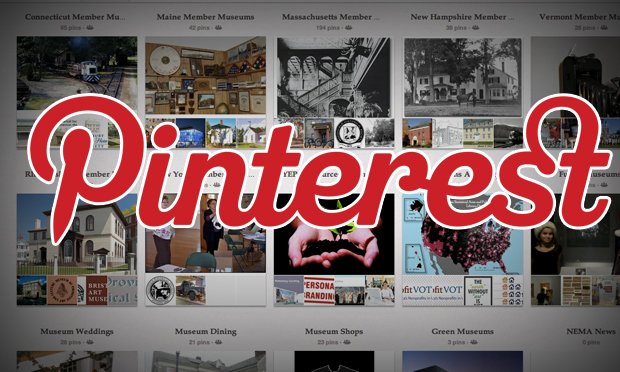 If you work at a museum, you've heard of Pinterest by now. It's said that a picture's worth a thousand words, and that may help explain the explosive growth of Pinterest, the social network in which people share images - just images - they find as they surf the Web.
Pinterest now has more than 20 million users and is among the top 50 most visited websites on the 'net, according to Alexa. It's an ideal way for museums to reach a desirable demographic group, as 70% of Pinterest users are women between the ages of 25-44. According to Nielsen, 5 million moms use the site monthly.
Here's the real news: for some businesses, Pinterest is now generating more referral traffic than Facebook. According to fashion site Boticca.com, more referral traffic to their site now comes from Pinterest than from Facebook, and those customers tend to spend more on average. You might say that translates to greater engagement from Pinterest users with their brand.
There's also mounting evidence that Pinterest, because it is visual, creates a higher emotional connection and therefore a higher level of engagement with a brand or organization.
This information, along with the demographics, are compelling to museums, and you should definitely consider adding it to your social media strategy. But it's also yet-another-social-network for museums to target with limited staff time, so it makes sense to understand how to use it effectively. You should think strategically so that your museum can take full advantage.
It's important to remember that there's no timeline on Pinterest. When you sign up, you're just… there. It's not quite as obvious to new users how you can find other users - like their local museum. What Pinterest does really well is make it extremely easy for users to tag - or "pin" - content that's interesting to them as they surf the 'net, and share very informally and serendipitously, with their followers.
So the key to success on Pinterest is having great imagery on your museum website that people will want to pin. You don't even need to maintain a Pinterest account for that, and you should already be thinking about making your website engaging, so that shouldn't add any extra work to your day.
You can see who's pinning objects on your site by going to this URL:
"pinterest.com/source/[YOUR-SITE]".
Examples:
pinterest.com/source/mainemaritimemuseum.org/
pinterest.com/source/metmuseum.org/
You don't need a Pinterest account to do this. Just look up your museum and see what people find interesting. That will give you insight into what the Pinterest crowd likes to share.
You can view other museum pins to see if you can spot trends that you can speak to in order to connect with Pinterest peeps, build awareness and ultimately engage them more fully as part of your online audience.
What do people pin? Obviously, things that have some visual sex appeal. I don't have any scientific evidence to back this up yet, but intuition tells me that people pin great pictures of clothes they want to wear, food they want to eat and places they'd like to go. So think about how the imagery on your museum website can play into that.
Here are some ways your museum can take advantage of Pinterest:
It starts with your website
Your website should be set up for Pinterest. Make sure you have lots of engaging imagery on your site. Try to make every image you post as unique, thoughtful and even provocative as possible. This shouldn't be too hard. You're already in that mindset, because after all, you're trying to do the same thing in your physical galleries.
Focus on your collection
Your collection is a rich, varied and unique source of imagery. It also inevitably defines the personality of your museum. Having a large online collection that's easy to browse and search through will increase the chances that people will share it. If you're using an antiquated, hard-to-use content management system or collections management software, this is just one more reason to consider upgrading to something user-friendly.
Strengthen the connection between your museum brand and your audience
The Pinterest audience - female, fairly affluent, fairly well educated, in the prime of life - has an affinity for museums, especially childrens' museums, art museums and historical centers. Speak to their aspirations and values. Underscore the importance of art and creativity in our culture. Align yourself with their lifestyle and you could find yourself having new patrons, members, donors and advocates.
Integrate with your overall online communications plan
As with other social media points-of-presence, your Pinterest boards will be most effective if they are part of a well-crafted, coordinated strategic communications plan. Because of the nature of the site, it's very unlikely that people will bump into your Pinterest page. They'll either seek you out - in which case they are already one of your advocates, so you're not expanding your audience - or you'll need to drive them there from your Facebook page, your blog or your website.
If you're comfortable with Pinterest, and you have the staff time, you can use your page in lots of other ways to creatively build and engage your audience. Crowdsourcing around topics and contests ("Pin in to Win it") are two ways to do that.
You can use it to tout events, preferably those that are on-going, like Nina Simon's group is doing at the Museum of Art and History in Santa Cruz. They pin items related to their Fire Festival.
So review your museum's strategic communication plan (you do have one, right?) and figure out if it's right to add Pinterest to the mix.