A better genealogy search, ecommerce leads to a 20% increase in sales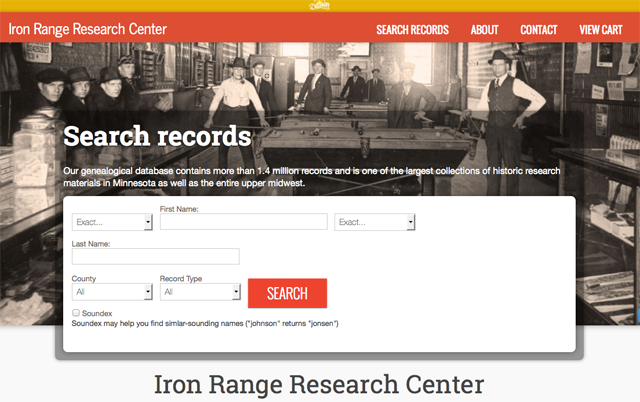 With an online database of more than 1.4 million records, the Iron Range Research Center, located in Chisholm, Minnesota, has one of the largest collections of genealogical data in the Upper Midwest. Their information is used by Ancestry.com and encompasses naturalization, birth, marriage, obituary records and more.
The IRRC, a division of the Minnesota Discovery Center, had not one, but two versions of its digital records online at different URLs. The first one, at its own website domain, did not provide a good user experience and used an outdated database that could not be updated with additional information which IRRC wanted to bring online. The second, created during a 2009 redesign of the Discovery Center's site and available at the Center's domain, had search functionality that was incomplete (in fact, IRRC staff used the older site to look up records!) and e-commerce that was tied to the Discovery Center's e-store and which did not reference individual records when placing orders for copies. Both were huge problems that threatened its relationships with genealogical researchers, historians and educators.
The Solution
The information architecture team at plein air was able to devise a strategy for migrating the data from the second database (which was complete though the search features didn't work) into a CMS built on the Django Open Source framework. A third party Open Source shopping cart application was customized to allow purchase of multiple records in the same order. Order forms are logged in the CMS and email notifications list each record by ID# to speed order fulfillment.
The search interface was updated to allow scoping of the keywords ("starts with/contains/ends with") and a soundex feature ("sounds like 'Johnson'") was added. Both are essential tools aiding genealogists in finding desired records.
A tablet-friendly responsive design was created to render the site layout beautifully across multiple device types.
The new site was positioned at ironrangeresearchcenter.org after search engine research determined that would maximize the SEO of the site. A new Google Analytics profile was created to filter out internal traffic to better understand how genealogists were using the site, to inform future upgrades.
The Result: Increased sales, better searching, happier audiences
In the first 90 days since launching the new site, record sales increased 20% over the previous year. External users visited 3.785 times generating 53,632 pageviews (14.17 pages/session). Most importantly, the improved search and the revitalization of the site strengthened IRRC's ties to researchers and the local community.